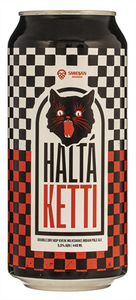 Haltá Ketti is a DDH milkshake IPA, this is the first beer that we brewed using Kveik yeast and we are very happy with the outcome. 
The mix of Citra, Mosaic and Cashmere comes out very well in this IPA
This is something you should try!
The meaning of the name is "hold a cat" 
Info:
ABV: 5,5% 
Style: DDH Milkshake IPA
Hops: Citra, Mosaic and Cashmere
Size: 440ml

Brewed in Smiðjan Brugghús, Vík, Iceland
Artwork by Bobby Breiðholt